Ok, hand up if you've had a hot dog from Costco. Who can resist the deal of a fair size tube steak and a drink for under a toonie? I know of some older folks, on fixed incomes, who eat there quite often because it's so affordable, even after the cost of a membership.
When I heard there were some changes coming, I thought it was just a matter of time. Everything else has been going up price wise, why not their famous combo? Rest easy, Canadian fans of the Costco hot dog. It's not the cost but what you can get. The American arm of the big-box retailer confirmed Monday they are making changes to their menu, but Costco Canada moved quickly to quash worries about the Canadian menu.
In a Tweet, the retailer let the Canadians know that they will not be "removing or replacing any of their hot dogs".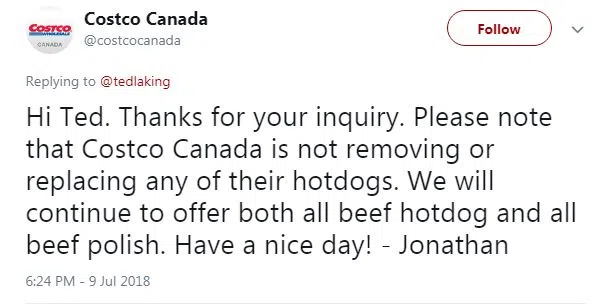 But for American customers, the Polish hot dogs are being removed and there's rumours of maybe the addition of stuff like an organic cheeseburger, fruit bowls and salads. Costco has been selling their popular hot dog for just $1.50, since they first started selling wieners at the original Costco location in Seattle in 1985.