Oh no, it's happened again. Do remember the story of a women would thought she was "helping" by attempting to restore a priceless Jesus Christ fresco.
Ecce Homo (Behold the Man) by Elias Garcia Martinez had held pride of place in the Sanctuary of Mercy Church near Zaragoza for more than 100 years. The woman took her brush to it after years of deterioration due to moisture. It's now know as the "Monkey Face" fresco. Google it…see! Too funny. I laugh every time I see it.
Sadly, another amateur "painter" has destroyed another priceless work of art.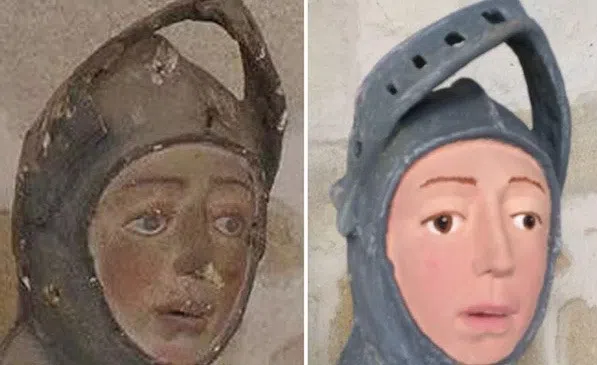 In Estella, Spain, a local handicrafts teacher completed this incredible "restoration" of a 500-year-old painted wooden effigy of St. George at a local church. The difference with this one, apparently the parish authorities of the Church of St Michael REQUESTED the teacher do the work.
The result now being compared to that infamous Ecce Homo painting of Borja that was "touched up" by cleaning lady Cecilia Gimenez and destroyed in the process. As they say, you get what you paid, or didn't pay for! More HERE.