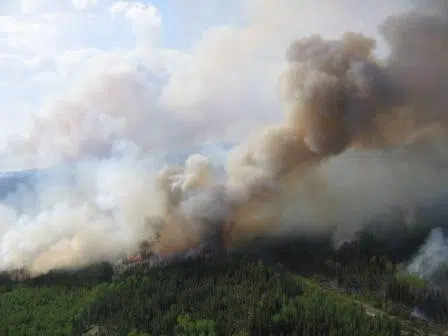 Sometimes it's good to be above average, but not when you are talking about fires. Five new ones started Monday (05/28) in our Province, bringing the total to 191 fires burning, which is higher than the 20-year average of 116. 120 firefighters from around Manitoba and Ontario along with two water bombers from Quebec are battling the blazes. Below is an aerial view of a fire at Caddy Lake (May 13/18)
If you are planning to camp or visit a park, here's a few links on what you should know.
You can find a list of parks with campfire restrictions and be sure to check with park staff for the most up-to-date information. http://www.gov.mb.ca/sd/parks/fire_restriction.html 
A map of affected areas and a detailed description of the provincial fire and travel restrictions can be found at: www.gov.mb.ca/sd/fire/Restrictions/index.html.
For further general information on fire status, maps, burning permit cancellations or other restrictions go to
www.gov.mb.ca/wildfire/ or follow the Twitter account at www.twitter.com/mbgovnews.