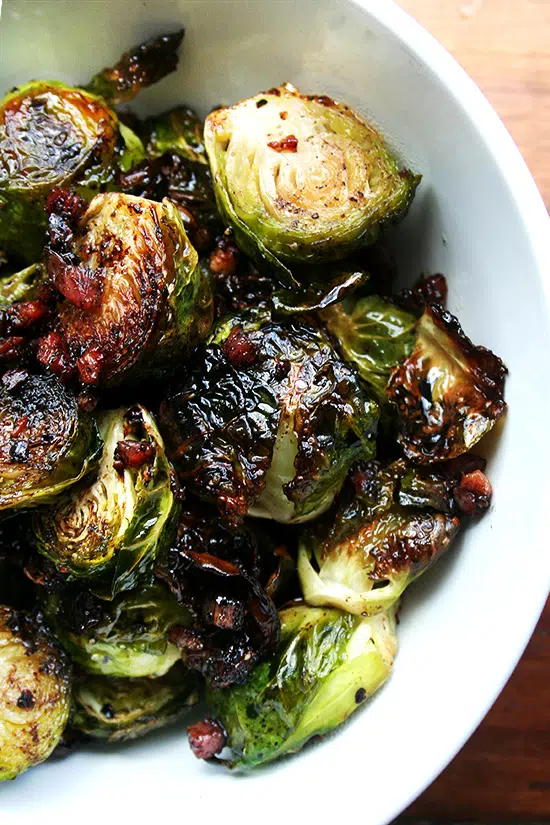 Do you like brussel sprouts? It's a very polarizing vegetable and one that often shows up on Christmas dinner tables.  Done improperly, they can taste like gym socks.  Caramelized and tossed with fatty pieces of pancetta and maybe a drizzle of balsamic vinegar…..and you've got yourself one DELICIOUS side dish!
The recipe is EASY obviously.
Ingredients:
1 pound fresh Brussels sprouts, trimmed
2 tablespoons olive oil
3 ounces paper-thin slices pancetta, coarsely chopped
2 garlic cloves, minced
Salt and freshly ground black pepper
3/4 cup low-salt chicken broth
Partially cook the Brussels sprouts in a large pot of boiling salted water, about 4 minutes. Drain.
Meanwhile, heat the oil in a heavy large skillet over medium heat. Add the pancetta and saute until beginning to crisp, about 3 minutes. Add the garlic and saute until pale golden, about 2 minutes. Add the Brussels sprouts to the same skillet and saute until heated through and beginning to brown, about 5 minutes. Season with salt and pepper, to taste. Add the broth and simmer until the broth reduces just enough to coat the Brussels sprouts, about 3 minutes.  EAT!!!!!!!!!!!