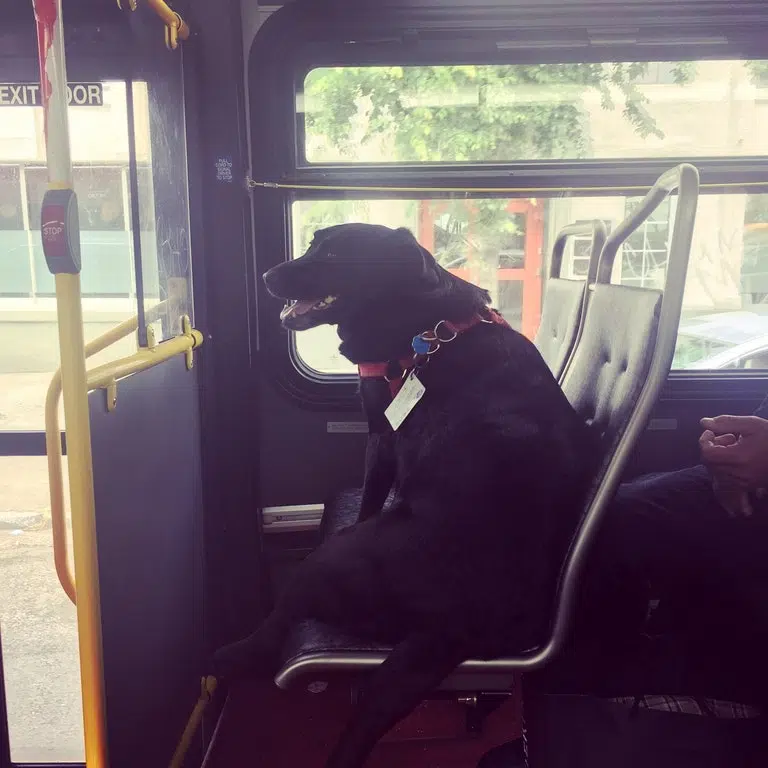 Meet Eclipse, a black lab-golden mastiff mix, who takes the bus to the dog park…by herself.  It all started when her owner started taking her to the dog park on that bus route (I guess dogs are allowed on the bus in Seattle). One day, while her owner was finishing a cigarette, she just hopped on the bus without him.  She would get off ON HER OWN at the stop where the dog park was.  Eventually, she just started doing it herself.  She would walk from her house to the bus stop, wait for the bus, and get off at the dog park.  I'm not sure if she pays a fare or not.
Her owner, Jeff, still joins Eclipse sometimes, but a lot of the time she just goes on her own.  He usually gets a weekly call from a stranger who sees Eclipse and calls him after finding his number on her collar.  He assures them that she knows what she is doing. Check out the video on her below.
She has basically become a celebrity in Seattle and people who ride the bus LOVE when they see her get on.  Check out the video the King County of Transportation did with her. Can you imagine riding a bus in Winnipeg and all of a sudden a dog with no owner just gets on and jumps on a seat?  That's right, she sits in a seat when she rides.  She also prefers the window, in case you were wondering.
I absolutely love this story. It's amazing how smart animals can be.  I know plenty of people who would struggle to get on the bus and get off at the right stop! Eclipse is AWESOME.