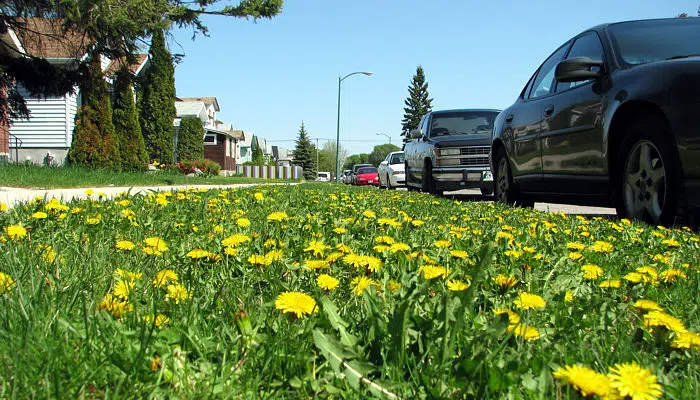 Oh, there their are… those colourful, yet annoying lawn destroyers. Dandelions. I've got a few on my yard, just enough to make me have to deal with the hearty weed. Came across a few hacks that may help you zap those suckers for good. No matter what method you use, though, it is best if you fight back before the yellow flower head matures into a white, puffy harbinger of dandelion doom. Once the puffy white seeds spread, you'll have more than just a few stray weeds on your hands.
Smother the weeds. Dandelions require plenty of sunlight to live. You can cover them with cardboard or black plastic bags to block the sunlight out, and within a few days, the flowers should die.

Pour boiling water over the dandelions. If you consistently pour boiling water over each dandelion a few times each day, the plants should start to wilt and wither into oblivion within three days.
3. Use a weed burner torch. These hand-held torches literally burn weeds away.
4. Spray the dandelions with vinegar. Plain white vinegar works, but you can also boil it down to concentrate the amount of acetic acid, creating an even more potent weed killer. Put the vinegar in a spray bottle, and douse the offending weed from head to base. For even more effective results, pull the dandelion out at the root and spray the hole to kill any roots that got left behind.
5. Dig the dandelions out at the root. Removing the dandelion by its root will remove it from your lawn. There are several "dandelion diggers" you can purchase at garden and hardware stores to accomplish this task. Some look fork-like in nature, while others look like a hybrid between a screwdriver and a fishtail. In both cases, however, you merely dig around the base of the flower and use leverage to pivot the flower out of the ground, root and all.