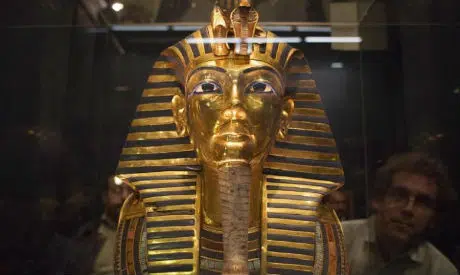 Moving to a new location or home maybe the start of a great new adventure, but there is nothing fun about packing to get there. You try so hard to make sure nothing breaks. Maybe you are the keeper of a heirloom that has been in your family for generations and now you are faced with the problem of move it. I remember moving from Winnipeg to South Carolina with two cats, a turtle and everything I owed. Plus having to get across the US border, yeah I was a little stressed!
So image having to move one of a kind, history making artifacts that could never be replaced?! Experts met in Cairo on Sunday (May 7/17) to strategize on how to safely move the famed Ancient Egyptian treasures from one museum to another. They want to move King Tutankhamun's throne, chests and bed from the Egyptian Museum in central Cairo to a new one being built on the other side of the Egyptian capital.
Moving items belonging to King Tut has become very touchy since 2014, when the beard attached to the ancient Egyptian monarch's golden mask was accidentally knocked off during work on the relic's lighting. Could you image! I would literally crawl into a hole if that was me who did it! Then to make it worse the workers tried to reattach it with an epoxy compound, causing more damage to the priceless piece of history and causing an uproar among archaeologists around the world.
No date has yet been set for the complete transfer of the priceless items, which would be displayed at two halls in the new facility, formally called the Grand Egyptian Museum. The halls, covering 7,000 square metres, are scheduled to open at the end of 2017. The tomb of King Tut, who ruled Egypt more than 3,000 years ago, was discovered in 1922 in the southern city of Luxor.