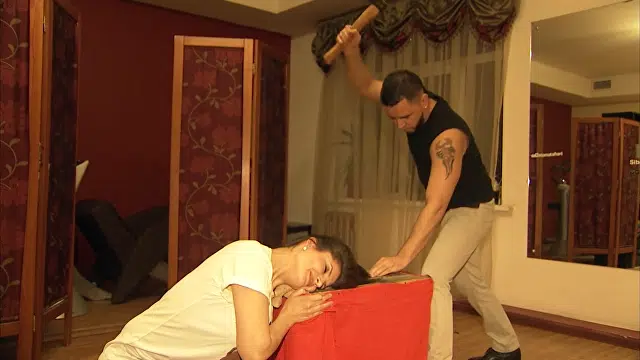 Trends. They come and they go. Can you see a trend starting for Axe Haircuts? Me neither, but that didn't stop this hairstylist from giving it a go. Daniil Istomin taught himself to cut hair with a sharp hatchet instead of scissors. Like many other hairstylists, Daniil wanted to come up with an idea to set himself apart from the competition. Inspired by old stories about how rugged men once shaved their beards, he started experimenting with a very sharp axe about two years ago, and steadily improved his hair-cutting skills. He worked on mannequins at first, and as he built up his confidence, he started asking women if they'd  let him chop their head hair off.
Daniil Istomin has been showcasing his bizarre hair-cutting skills at hairdressing events and talent shows, for about a year. He says had become bored with traditional hairdressing, and had tried his hand at several tricks before picking up the axe, including cutting hair while blindfolded and wielding two pairs of scissors simultaneously. But as soon as he started chopping with the hatchet, he knew that he was on to something special.
Daniil mostly showcases his unique skills during choreographed events, where the paid models are instructed on what is about to happen beforehand, because most of his regular customers are reluctant to let him chop off their hair with a hatchet. After watching him work, I can say I understand how they feel.