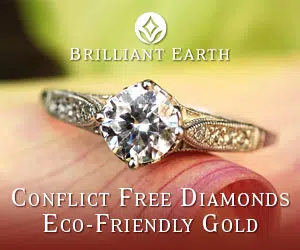 Have you ever heard of Brilliant Earth? It is the largest online supplier of diamonds, and they claim to provide customers with diamonds that are 100% conflict free. They claim that some of their diamonds are mined in Canada. They claim they will provide customers with the EXACT origins of the diamonds they sell and that they track each one of those diamonds from the mine to the consumer making sure that no human rights violations take place.
The problem is, they can't verify their own claims to be accurate.
This video below details that Brilliant Earth diamonds lack any paperwork tracking their origin to the mine. In fact, they follow up with many of Brilliant Earth's suppliers and none of the diamonds that are claimed to have originated in Canada are actually certified as Canadian. Brilliant Earth has no idea where their diamonds are mined, despite the fact that they guarantee their location and the fact that they are conflict free.  They don't even know WHEN the diamonds were mined, let alone WHERE they were mined.
So, the moral of the story is don't trust a company just because they CLAIM to do something.  Any company can make up a certificate claiming that their product is from a certain place just as easily as George Costanza could tell people a donation has been made in their name to The Human Fund. Ask questions. Demand proof. And if it sounds too good to be true or the pieces don't line up, just walk away. Brilliant Earth is scamming thousands of people every year telling them that they provide conflict free diamonds. The problem is, they can't verify their own claims to be accurate.
#TheMoreYouKnow