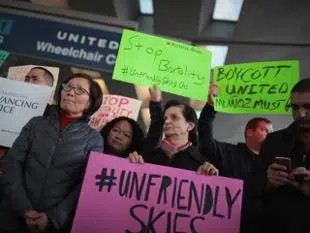 Were you as freaked out as I was by that viral video of the guy being dragged off a United Airlines plane this week? Can they do that? And if so, how can they do that? That was the first two questions that popped up in my mind. We've all been there. You get to your gate, look around and notice, yikes there is a lot of people here. Are they all gonna fit on the plane? And then it happens, a attendant announces that your flight is overbooked out and asks for volunteers. The airline needs a passenger to give up her seat — and, as a lure, offers up a travel voucher.
Apparently it's standard practice for airlines to overbook flights in anticipation of passengers not showing up. There are also scenarios in which the plane may be too heavy, an air marshal needs to board or flight staff have to get to work. Long story short: If a carrier needs seats, it may have its eye on yours.
What you should know HERE.