If you can tell me where the last 30 years have gone, I'm all ears, because somehow I've been in radio for that long here in Winnipeg.
In fact, this is the only place I've ever done professional radio (and TV, and acting). I kind of fell into radio, which is odd since broadcasting is kind of the family business. My dad, Murray, was in Winnipeg radio and TV for something like 37 years before retiring in 1992 – following an almost 30-year stint at the CBC, most of which he spent reporting on the weather.
I had planned to be an actor, having worked in TV and film as a tween (see below). I studied theatre for three years in Quebec at Bishop's University to round out my skill set in preparation for a planned career in that field. It was during that period that I realised that the tumultuous actor's lifestyle wasn't for me. I had also met my future wife, and needed stability.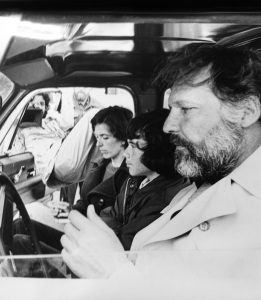 Oddly, the idea of getting into radio had never occurred to me until, during the summer after that third year in Quebec, she and I were wandering the Red River Ex midway at the old stadium, saw a radio station doing a remote broadcast, and she suggested that I'd be good at it (the jury's still out on that one). I have no idea why it hadn't occurred to me, because I'd been doing student radio for years by that point!
Cut to November and I'm at my buddy's apartment using his twin turntables (he did socials) and a rented microphone to create a demo tape that I sent to every station in Manitoba (for starters).
Timing is everything, they say, and it certainly was in my case. I had borrowed a copy of our industry trade magazine, Broadcast Dialogue, from an old family friend, Tom Ashmore, for its comprehensive listing of Canadian radio stations that I'd used to send out my demo tapes. On the January day that I happened to stop in at the offices of CKRC and sister station CKWG to return it, Tom met me at reception and immediately led me to the boss's (Program Director John Norris) door, and suggested that he talk with me about a job. Turns out that the station had fired a guy the night before.
John and I had a brief chat, and he set up a formal job interview for a couple of days later. At that meeting, on January 16th, 1987, I was hired for my first radio job – in the old Winnipeg Free Press building where my dad had worked – at CKRC and CKWG, Stereo 103 (we worked both).
It was quite rare at the time for an inexperienced broadcaster to get a job in a major market like Winnipeg without spending some time in a small market like Flin Flon or Thompson first (although my dad had also pulled it off), but I had gotten lucky.
After a couple of weeks of training, at midnight on February 1st, 1987, I settled into the "air-chair" with a stack of LPs and 45s from the Stereo 103 station music library for what I still remember as one of the longest nights of my life.
I was on-air – nervous as hell – for six hours from midnight until 6am, manually cuing records, running commercials, answering the phone, and trying to make sense when I cracked open the microphone. Generally, I think it sounded OK, and I have a tape of it somewhere that I don't ever intend to listen to, but the important thing was, they let me do another the next weekend!
I ended up working mostly on CKRC (where my old buddy Boyd "Kozy" Kozak – really my dad's old buddy since they worked together at this same CKRC in the early 60s before my dad left for TV – was still a fixture), all while holding down a day job selling word processing equipment.
My territory was downtown, and I'd stop in at the station every day asking the boss if there were any more shifts available beyond the two shows a weekend I'd been hired to do. Once in awhile, I'd pick up a show during the week when someone was sick, so at times, in addition to working seven days a week as it was, I'd work all day, go home to eat, and then head to the station to prep for the all-night show.
I was getting no sleep, and I vividly remember being so tired driving home to Transcona at 7am after picking up one mid-week all-night show, that I hallucinated a giant frog (like VW bug-sized) crossing the road in front of me on Provencher! I made it home somehow, grabbed a 20-minute nap and crawled into the shower to get to the day job for 9.
After about three months of that, sometime in May, I was back in the boss' office for my daily visit, begging/bugging him for enough work so that I could quit the day job and get some sleep. I don't know whether it was more luck or whether he just took pity on me, but John picked up the phone to speak with his assistant who did the scheduling. After a few moments, he hung up and said that with summer vacations coming up, he could offer me 5 shows a week filling in through August, and perhaps beyond.
I quit the day job the next day, and never looked back. Week after week, when the schedules came out, there was my name, and believe it or not, I still look for my name on the schedules when they come out, and feel the slightest hint of relief to this day when I see it. Such is the nature of radio.
So far, it's been a great ride in both radio, and for a period between 1997 and 2001, TV too, and I look forward to many more years in the air-chair. I have a long list of people to thank for my living here in my home town, not the least of which is John Norris, who hired me for that first job, and I'm filled with gratitude for having crossed paths with all of them.
That I've been able to build and sustain my career in Winnipeg has allowed me to keep my life here, and to raise two children in stability here in one city where the rest of their family is, and where I am now watching them build their own lives, and I am so grateful that the Winnipeg radio industry has provided me with the means to be able to stay in the town in which I was born and raised – my town.
I work at a great radio station, with and for great people, and I look forward every single day to coming into the studio and doing my slightly twisted thing for you. Although it may sound like a cliche, in cliches there is truth, and the truth is, the radio business is only marginally more stable than the acting business (Who knew?!), and I wouldn't be here at all, still doing what I love to do, if it weren't for the support of the listeners.
That's you…and I sincerely thank you for being here with me for these last 30 years.
Keep listening, because one of these days I might just figure out what I'm doing!